The Fellowship Examination will test candidates' clinical decision-making. More specifically, candidates' ability to assess, treat, and understand probable outcomes. The cases used in the Fellowship Examination tend to be "typical" cases that a practicing specialist would treat in clinical practice.
The Fellowship Examination will be administered virtually in 2022 for most specialties. Due to the nature of the assessments, the Oral and Maxillofacial Radiology examination and the microscopic evaluation of the Oral Medicine and Oral Pathology & Oral Pathology examinations will be held in person at a single location within Canada. The exact location of the examination site will be communicated after the closure of the 2022 Fellowship Examination application window.
The virtual examination will maintain the original case-based format of the in-person examination, but most specialty candidates will be able to sit from a place they feel most comfortable and have access to a stable internet connection.
FDI Two-Digit Tooth Numbering Chart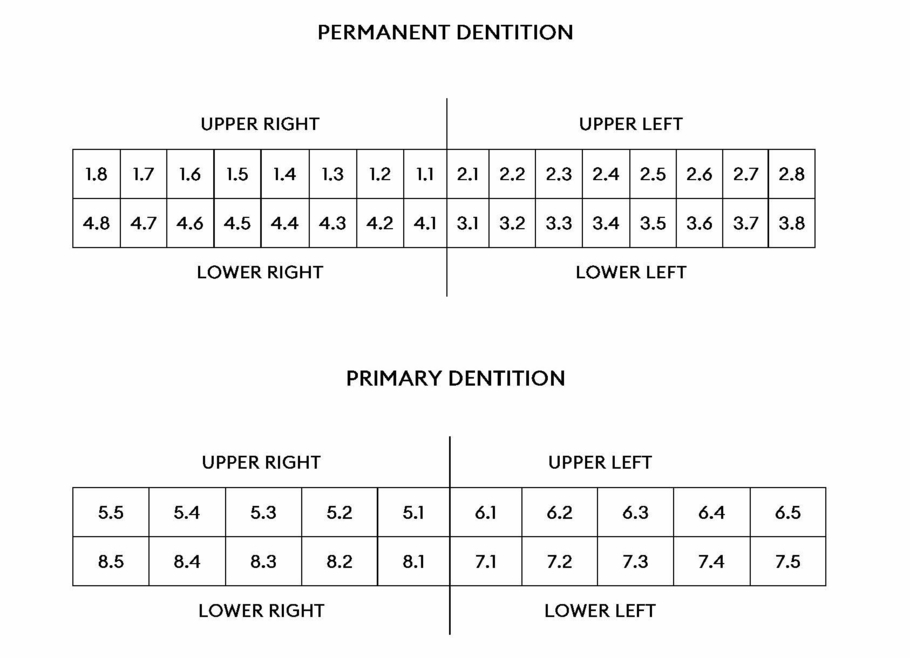 Candidate Misconduct
The policy document Statement of Policy and Procedure: Candidate Misconduct outlines in detail the procedures associated with managing alleged candidate misconducts.
Examination Results
Candidates may view their results on their RCDC account within 45 days of the Examination; only a Pass or Fail notice will be published. Unsuccessful candidates may initiate a Formal Review of their Examination results in the event that significant procedural irregularities negatively impacted their performance. Within 15 days from the communication of Examination results, Head Office must electronically receive completed requests that include: i) a written statement that clearly outlines the alleged procedural errors, and ii) the payment authorization form for the administrative fee corresponding to the stage of appeal in question.
As part of this review, the College will consider the candidate's statement outlining the alleged procedural irregularities, available documentary evidence, and examination marks. The policy document Statement of Policy and Procedure: Formal Reviews outlines in detail the procedures associated with such requests.
Preparing for the Virtual Examination
The following resource has been made available to help candidates prepare for technical aspects of the virtual examination.