Orthodontics is the branch and specialty of dentistry specializing in the supervision, guidance, and correction of the growing or mature dentofacial structures. It involves the diagnosis, prevention, and treatment of any abnormalities associated with these structures.
The Fellowship Examination in Orthodontics tests a candidate's knowledge and clinical competence in Orthodontics at the specialty level in Canada.
For more information, please refer to the Canadian Association of Orthodontists.
Examination Information
The Fellowship Examination is an oral exam designed to test a candidate's abilities, knowledge, recognition, problem solving, and treatment planning of clinical situations. It also tests a candidate's ability to diagnose and manage both common and unusual problems that an orthodontist may encounter in clinical practice.
During the oral examination, candidates will be presented with case histories, medical and dental histories, radiographs, clinical photographs, and other clinical information. Candidates will be expected to recognize, diagnose, and plan appropriate intervention, recommend management, and follow-up care for the presented patients. The focus is to evaluate the ability to successfully manage patients in an orthodontic specialty practice.
Case scenarios used in the oral examination sessions are realistic situations covering a sample of the following topics. Please note that not all domains may necessarily appear in every examination.
| Element | Duration |
| --- | --- |
| Part 1: Oral Examination | 1 hour |
| Part 2: Oral Examination | 1 hour |
FDI Two-Digit Tooth Numbering Chart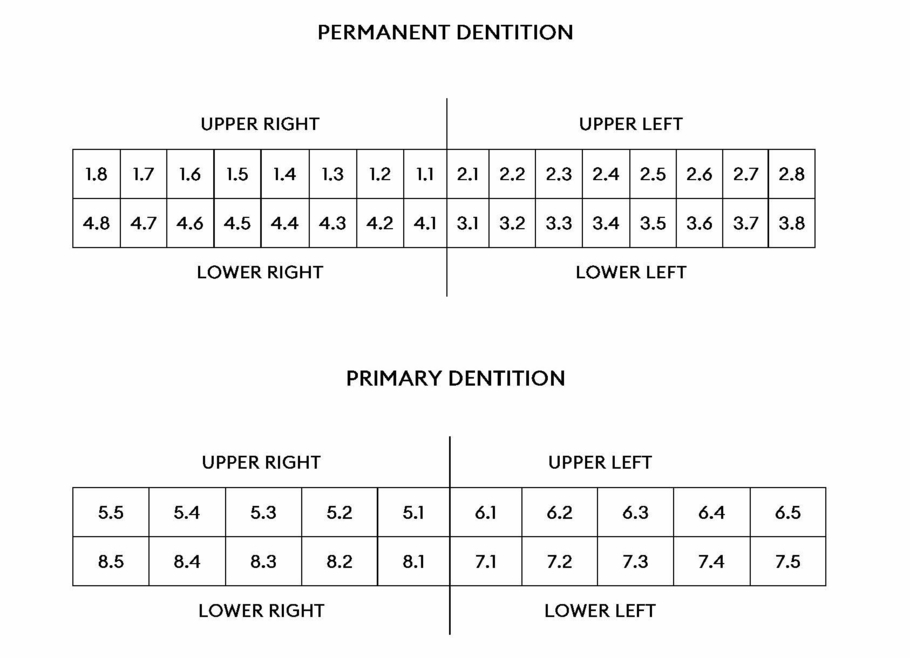 Topics for Review
The oral examination is structured to test the topics below.
Sciences (as it pertains to clinical orthodontics)
Oral pathology/genetic disorders/ developmental disturbances/speech pathology
Psychological factors, patient management
Preventive dentistry/hygiene
Dental emergencies
Biology of tooth movement/Biomechanics
Biomaterials, physical principles, laboratory procedures
Occlusion
Temporomandibular disorders
Etiology of malocclusion
Respiration and airway considerations
Imaging techniques
Cephalometrics: analysis, principles, landmarks
Treatment timing
Dentofacial orthopaedics/Interceptive treatment
Design, fabrication, and manipulation of fixed and removable appliances
Orthodontic management of patients with craniofacial anomalies
Orthodontic management of patients requiring interdisciplinary treatment plans
Orthodontic management of medically compromised patients
Orthodontic-restorative treatment
Orthodontic-periodontal treatment
Orthodontic-endodontic treatment
Surgical orthodontics
Complications of treatment
Retention and stability
Implantology/Temporary anchorage devices
General Guidelines
Familiarize yourself with the format of the oral examination and the topics of study to be covered in the sessions. These topics should serve as a guide to the types of cases that may be covered.
The oral examination is a test of a candidate's ability to assess, diagnose, treat, and manage common clinical scenarios at the level of a specialist in an orthodontic practice. The cases are selected to be representative of what orthodontists in Canada encounter in their practices
Candidates will not be asked to directly cite research articles to substantiate clinical decisions; however, candidates will be expected to select clinical decisions and treatment based on current evidence-based practice.
Candidate Study Guide
The intent of this guide is to provide the candidate with an understanding of the format in which questions may be asked during the Fellowship Examination. The content used in these sample questions is strictly used for illustrative purposes and should not be construed as an example of the level of difficulty of the examination questions.